Rolling things along slowly (and hopefully faster as we pick up structure and steam). We had our second meeting at RiseHub to work on the Point of Sales (POS) and inventory system for one of Waihong's friend's businesses. We've picked up a money developer who recently left Microsoft, and who's apparently won national programming competitions in China. Dang! lol. (Continue to bring these awesome connections, God! =D)
Waihong's the only person who's actually practiced and implemented SCRUM before, so we had some confusion on how to proceed with planning out our development schedule, particularly with organizing our user stories into themes and epics. We found this nifty little graphic and explanations from agile101.net. In either case, we decided to not get too bogged down on the terminology and ran with the basic understanding of writing user stories which addressed user-specific problems, and we'd continue iterating our processes as we went along. "We're agile about agile," I chuckled =).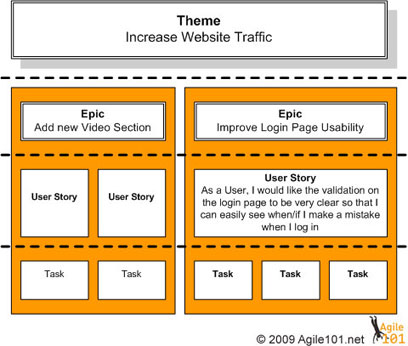 Agile Themes
A Theme is a top-level objective that may span projects and products. Themes may be broken down into sub-themes, which are more likely to be product-specific. At its most granular form, a Theme may be an Epic.
Themes can be used at both Programme and Project Level to drive strategic alignment and communicate a clear direction.
Agile Epics
An Agile Epic is a group of related User Stories. You would be unlikely to introduce an Epic into a sprint without first breaking it down into it's component User Stories so to reduce uncertainty.
Epics can also be used at a both Programme and Project Level.
Agile User Stories
A User story is an Independent, Negotiable, Valuable, Estimatable, Small, Testable requirement ("INVEST Acronym"). Despite being Independent i.e. they have no direct dependencies with another requirements, User stories may be clustered into Epics when represented on a Product Roadmap.
User Stories are great for Development Teams and Product Managers as they are easy to understand, discuss and prioritise – they are more commonly used at Sprint-level. User Stories will often be broken down into Tasks during the Sprint Planning Process – that is unless the stories are small enough to consume on their own.
Source: http://agile101.net/2009/08/10/the-difference-between-agile-themes-epics-and-user-stories/
Here we are cranking away with notecards =)